How to Make Bust Sling Bras
by Don McCunn
The Concept
The premise of the Bust Sling Bra design is that the conventional bra has been designed for the young woman in her reproductive years. When women enter their post reproductive years, both the body and the personality can change dramatically. But the basic structure of the conventional bra remains the same.
The conventional bra is based on a cantilever concept where the weight of the breast is supported by the band around the rib cage. My Bust Sling Bra changes the support structure to a suspension style that follows the natural contours of the body.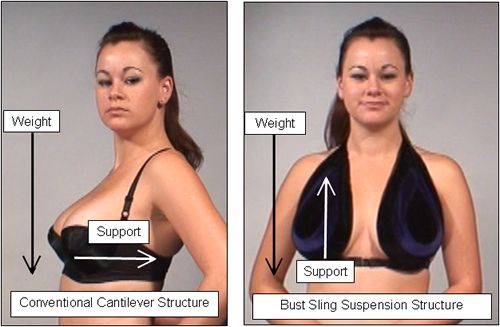 Because the structure of this bra provides support by following the natural contours of the body it can be used to create garments with built in support that require no additional undergarment. This approach also eliminates the need for underwires. It is an open design concept that can be used to create garments for women of all ages.
The design is motivated by the comments I have been listening to for the last four years through my Yahoo group Custom Bras. I trust with this one design concept I have been able to address almost all the issues women are faced with in a conventional bra. Some women have found it is a particularly effective design for nursing bras.